Finding a way to keep fit can be hard if you don't like being cooped up in a gym.
Whether you're fancying a fitness reboot or want to maintain a healthy lifestyle, these 10 alternatives to standard fitness regimes will bring you a lot of fun at the same time as toning your body, burning calories and improving your strength.
1. Keep fit in the park
If you need someone keeping you in check when exercising but you don't want a personal trainer, try out one of the circuit groups who meet in Cardiff's parks. British Military Fitness, run by ex-military men and women, hold regular workouts in Heath Park and Pontcanna Fields. Sessions combine team games, paired exercises, running, circuits and strength training in a challenging but fun atmosphere.
2. Stretch and sweat

Photo: Stretchy Suzie's on Facebook
Despite looking like relatively slow, calm and non-energetic activities, yoga and pilates can give you a really good workout. Stretchy Suzie's in Cathays is the place to go for a variety of floor and balance based exercises. There you'll find classes all day in things such as high intensity fat burn, pilates for core strength, handstands and gymnastics. It's certainly not all about saying 'ommm' in unison.
3. Dance (without a drink in hand)
Dancing is a whole load of fun, and it has loads of benefits when you do it without drinking booze at the same time. Things like Zumba, Bokwa, street, ballet and tap will increase your muscles strength, improve your fitness and help you tone muscles and strengthen bones. If you want something a bit different, you could try burlesque, breakdancing or bellydancing, all of which are great for improving balance and coordination too.
4. Bounce!
Photo: Go Air on Facebook
Unleash your inner child and improve your health at the same time at Go Air trampoline park. Jump on the adult-proof trampoline floors, rebound off the walls and dive into sponge pits. You'll soon feel it in your thighs, and you'll be doing serious cardio without even realising it.
5. Take to the water
Cardiff International White Water centre has an on-demand 250m white water course, a flat water course and an indoor surf facility. This makes it the ideal place to try rafting, canoeing, kayaking or boarding without having to brave open water. You can do one-off sessions or courses, but from just one session you'll see how paddling and rafting can work your whole body.
6. Toughen up fast with roller derby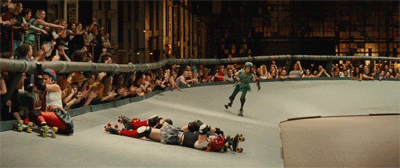 This is what's in the film Whip It, but real. A team of women skate as many times as they can around a track at high speed, while another team of women try to stop them passing by forging human walls. Skating at a fast pace burns a high number of calories, increases cardio endurance and builds balance, confidence and muscle strength. Cardiff's Tiger Bay Brawlers are a very strong team, and they operate sessions for intermediate skaters.
7. Hit the ramps
Let your pixelated Tony Hawk wannabe jump out of the TV! Skateboarding is a full body workout: you constantly move your feet, use your arms for balance and twist your body to change direction. This builds your flexibility, endurance and ambition. It's a good escape too, relieving stress and worry. There are some good parks in Cardiff. Try RampWorld or Spit and Sawdust.
8. Climb the walls
Photo: Boulders on Facebook
Rock climbing doesn't have to be dangerous and wild. Places like Boulders Climbing Centre give you the chance to clamber up 12m of vertical wall while supported by a harness just in case you slip. With over 2,000 square meters of climbing surface, there's more room than you need to build up a sweat, strengthen your muscles and face scary heights.
9. Swing on the pole
Pole dancing may have dodgy connotations, but it's actually hard work on the body. Having to lift yourself up by your limbs, manoeuvre your frame around the pole and yet retain all your dignity and sexiness is tough! The first sessions are usually hard going, but once you get used to pole, you'll feel your flexibility, strength and spacial awareness improving. Pole Twisters and KT Wild's Vertical Fitness have good facilities and teachers.
10. Get on your bike
Lots of people own a bike, but few use them regularly. Why not swap your short car journeys for planet and health friendly bike rides? If you want company while you pedal, you could join a local cycling group such as Cardiff Ajax Cycling Club, who organise rides for all abilities. You could always take to the picturesque Taff Trail, which stretches from Cardiff Bay to Brecon.
Have you got a tip for how to get fit in Cardiff? Share it on Facebook or Twitter.
Liked this? Try these:
5 healthy (and delicious) places to eat in Cardiff
10 of the best places for vegetarian and vegan food in Cardiff
10 heartwarming good cause businesses in Cardiff
Main image: Tiger Bay Brawlers on Facebook